Welcome To The Girls Academy
Welcome to Peterborough United Girls Academy.
Peterborough United Girls Academy was formed in September 2022 after the club received a three-year Girls Emerging Talent Centre (ETC) license which allowed the club dual age groups, including U10, U12, U14, and U16, and that would feed directly into the Posh Women U23s and First Team.
The Girls Academy is formed of 3 sections:
Under 8's (girls in school years 2&3) – Players are offered one training session per week on a Friday evening with our coaches and strength and conditioning coaches. The sessions focus mainly on fundamental movement skill development, ball mastery and first-touch skills.
Emerging Talent Centre (girls in school years 4-11) – Players are offered a weekly training session on a Friday evening which comprises of a pitch-based session, classroom sessions, psychology sessions and gym sessions. Players have regular access to our large staff team to help support them in whatever area of their development they need, including medical support for any injuries. The players are offered a number of fixtures throughout the season on evenings and school holidays, which compliments their grassroots club programme. There are also small group sessions and gym sessions on Wednesday evenings for girls on an ad-hoc basis.
Under 23s (players 16+) – This squad will train on Wednesday and Thursday evenings with classroom, gym and pitch-based sessions. The squad play in the FA Women's National League Reserves Division. Players have access to our sports psychologist, medical team and the strength and conditioning team.
After a successful first year, the club introduced the Girls Academy at the beginning of the 2023/24 campaign. The restructure saw the Development Squad will be renamed as the U23s and will see an implementation of a U7/U8s, joining the current U9s-U16s age groups, to form the Girls Academy.
The Girls Academy was created to build a player pathway for the next generation of female footballers into the first team, and that has already been highlighted in the first season. Four players from the U16 group made their Development Squad debuts during the 2022/23 campaign, while three were handed first team debuts.
Edyn Osker, Ellie Curson and Megan Dellar have all made an appearance for Dan Lawlor's side, progressing from the under 16 group. Osker made four appearances for the first team, with all of those coming in the FA Women's National League, while Curson was part of the squad that won the Northants County Cup in April.
What is the Girls Academy structure?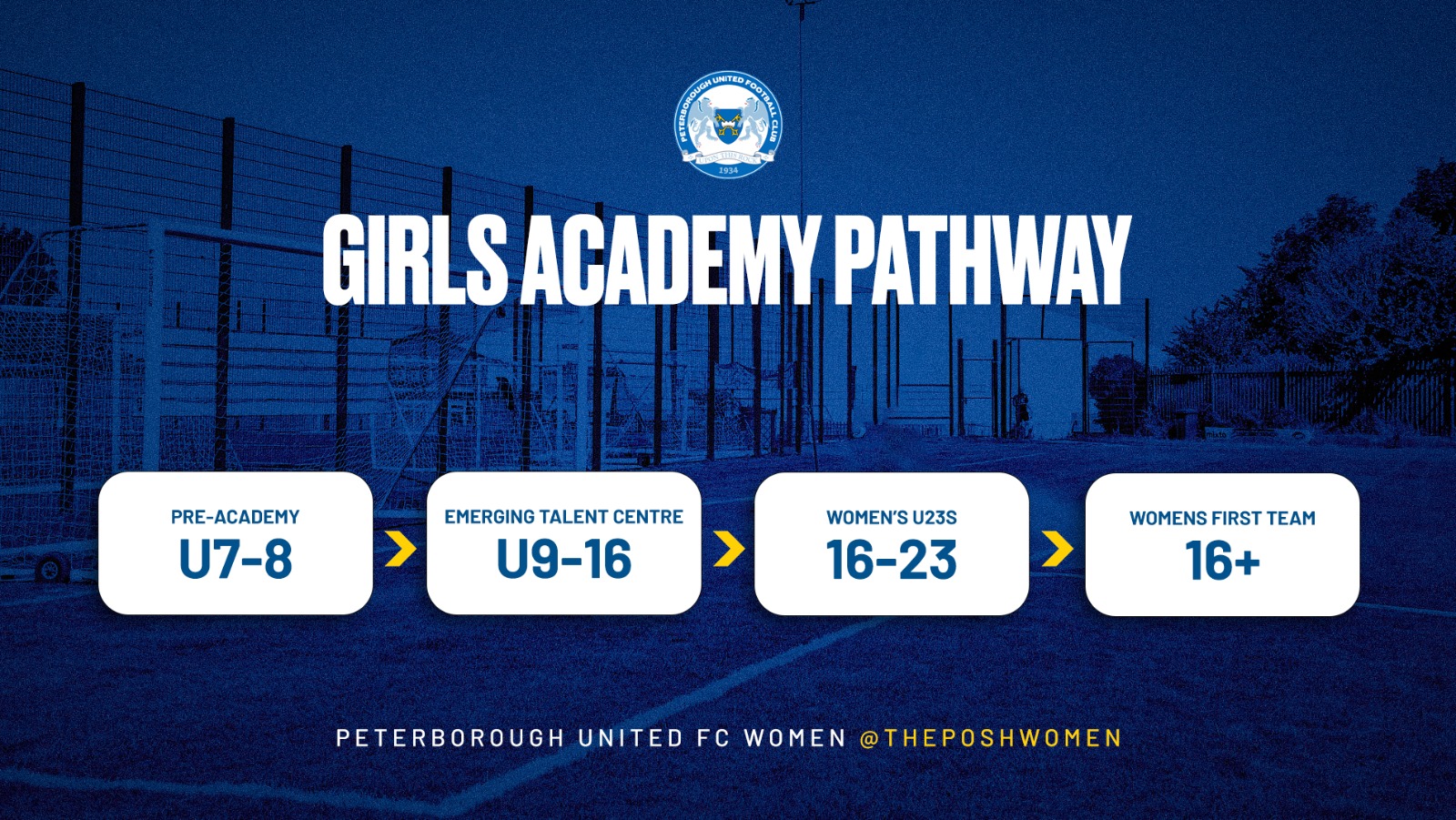 Contact
If you have any questions or want further information on the Girls Academy, please contact Chloe Brown at chloe.brown@theposh.com
If you are interested in becoming part of the Girls Academy, please fill out of the expression of interest form here: https://forms.gle/P6owkEa2nGUkxKYQ8